Attention Patients: We are currently developing a brand new experience for our location and provider directories. Pardon our appearance in the interim. We look forward to launching our revamped directories with you in the coming weeks!
Al Watanabe, DMD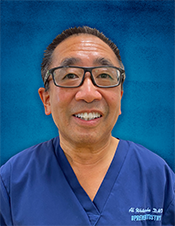 About the Provider:
About
SPECIALTIES AND SUBSPECIALTIES


* Dentist


Education & Training


* Oregon State University
* Oregon Health & Science University School of Dentistry where he received his Doctor of Dental Medicine (DMD)


Bio:


A native Oregonian and a big Portland Trail Blazers Fan.


From the beginning of his career, Dr. Watanabe chose to practice in a group practice because it allows him the ability to practice dentistry and to stay on the cutting edge of dentistry while also being a leader, mentor, and trainer of dentists and other members of the clinical team as a Portland\-Metro area Regional Dental Director. Dentistry is like a hobby to him rather than a job as he is so passionate about it and is in awe as to how he is able to make a difference in the lives of his patients by utilizing his clinical and customer service skills.


"My passion is to make a difference in each patient's dental health, overall health and self\-image while helping them overcome any possible dental phobias. I absolutely love performing endodontic treatment, oral surgery and cosmetic dentistry procedures, as well as mentoring others." — Dr. Al Watanabe


Dr. Watanabe enjoys going to the gym, jogging, gardening, nature, photography, tinkering with cars, and spending time with family and friends. Dr. Watanabe is a general dentist who focuses on all aspects of dentistry after interviewing the patient regarding his/her wants and needs. Services include:


* Tooth colored fillings
* Tooth\-supported crowns, veneers and bridges
* Implant\-supported crowns and bridges
* Root canal therapy on all teeth and on patients of all ages
* Root canal retreatment (case by case)
* Extractions, including wisdom teeth
* Laser\-assisted cold sore treatment
* Laser\-assisted frenum of the lip or tongue treatment
* Sleep apnea oral appliances (as prescribed by the patient's sleep medicine doctor)
* Nightguards and athletic guards
* Dentures and removable partials


Accepting new patients of all ages.
This Provider Works at the Following Practices: