Attention Patients: We are currently developing a brand new experience for our location and provider directories. Pardon our appearance in the interim. We look forward to launching our revamped directories with you in the coming weeks!
Dhaval Shah, DDS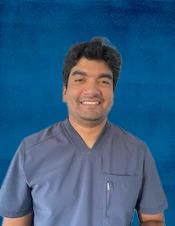 About the Provider:
About
Dr. Dhaval Shah earned his DDS from the University of Texas Health Science Center, San Antonio. During his time in school, Dr. Shah dedicated part of his time to researching maxillofacial prostheses in cancer patients.


Dr. Shah is excited to partner with families located in communities northeast of Birmingham, Ala. "I am excited to offer a wide range of general, restorative, and cosmetic oral health services to help my patients achieve their desired smile transformation, Moreover, I look forward to designing a customized treatment plan that best repairs and perfects the oral health of my patients," Dr. Shah says.


One key area Dr. Shah feels passionately about is providing access to oral health care for communities that too often do not have a local provider. He notes, "I hope to serve the community as a provider who resolves the issue of access to care. I would like to focus on increasing awareness and prevention of dental disease in the community in addition to offering just dental treatment options. As a dentist, I can also be a teacher, a provider, a health care worker, and an educator. I enjoy how I can change lives through compassionate care. Oral health is strongly associated with overall health. As a dentist, I can positively influence the lives of my patients."


Dr. Shah is proficient in a wide range of dental treatments, including veneer fitting and placement, molar endodontics, extractions, partial and total dentures, crowns, and more. His current professional affiliations include the American Dental Association, the Academy of General Dentistry and the Indian Dental Association.


Outside of work during free time, Dr. Shah enjoys playing tennis and chess.
This Provider Works at the Following Practices: