Emergency Dental Care
What Should I do if I have a Dental Emergency?
First, call the dentist's office. We have staff and emergency dentists in Alabama, Florida, Massachusetts, Oregon, Texas and Washington available 24-hours a day, 7 days a week.
The hospital's emergency room cannot provide the care that should take place in your dentist's office. When it comes to your teeth, emergency room professionals have a limited ability to help. Your teeth need specialized care that can only be offered by a dentist or dental specialist.
Consider Teledentistry for Urgent Dental Care
Consider a teledentistry appointment, a telehealth option, for your dental appointment. Connect with licensed dentists at Advantage Dental+, from home, a parked car, or anywhere you can be on your phone or computer. With this tool, you can talk directly with the dentist on video or phone and get your oral health concerns addressed. Perfect for when experiencing a dental emergency and you're on the go or not at home.
Should I go to the Hospital or Dentist for my Dental Emergency?
It is important to note that dental emergencies and hospital emergencies might not always refer to the same condition. If you decide to go to the emergency room for a dental emergency, you will still need to make a follow-up appointment with your dentist soon after.
Did you know the use of hospital emergency services for non-urgent or preventable medical conditions is a growing public health concern across the nation? The estimated national cost of hospital emergency room visits for dental emergencies is more than $2 billion a year. From collected data, it is assumed that 79 percent of hospital emergency visits regarding oral care can be shifted to a dental office. This suggests, if more people went to the dentist for their dental emergent and urgent needs, there is a potential cost savings amount of up to $1.7 billion per year.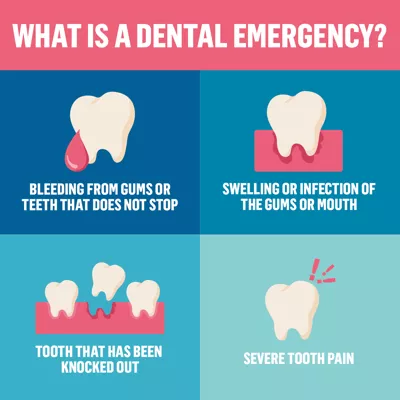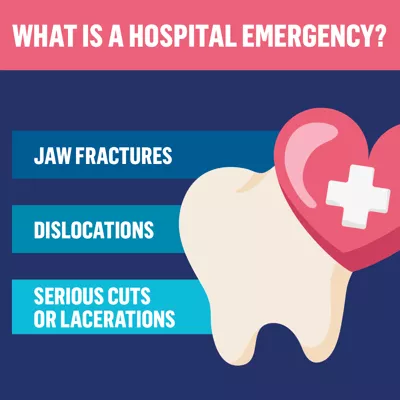 After-Hours Emergency Dental Phone Lines
If you are experiencing a dental emergency after business hours, please call:
Licensed Emergency Dentists in Alabama, Florida, Massachusetts, Oregon, Texas and Washington
Advantage Dental oral health providers treat both adults and children in need of emergency or urgent dental care. However, if you are experiencing a life-threatening injury, call 911 or go to a hospital emergency room immediately. Possible life-threating oral health conditions that require immediate medical attention include:
Risk to breathing
Emergency medical situation that can feel like it is a mouth or tooth problem
Risk to life from spread of tooth/gum problem or infection, such as swelling that spreads below your jawline or to your nose or upper eyelid
Stroke; identify if one side of the face droops, if both arms can be raised in front of the body parallel to the floor or slurred speech
Common oral discomforts and injuries that may need emergency dental care and how to handle them include:
Call your dentist or an emergency care dentist as soon as possible after you start feeling any sort of pain or discomfort that cannot be controlled by over-the-counter medication.
Rinse your mouth out with warm water and apply a cold compress to your face. If there is swelling, call your dentist or an emergency dentist right away. If your tooth was chipped or broken and you have the piece of the tooth that was broken off, wrap it in wet gauze or towel and bring it with you to the dentist.
If your tooth becomes loose due to trauma, call your dentist right away. For a knocked-out tooth, gently insert the tooth back into the socket if possible, without touching the root, using a clean towel or washcloth. This is to give the tooth the best chance at survival. When re-inserted the tooth can re-attach itself to the bone depending on how long the tooth was out of the mouth. If the tooth is dirty, rinse with milk, but do not scrub or remove any tissue that may be attached and try not to touch the roots, this is the most sensitive and easily damaged part of the tooth. If re-insertion into the socket is not possible, put the tooth into a cup of milk or spit to keep it moist and go to the dentist immediately.
Apply ice or a cold compress and go to the emergency room immediately if you suspect a broken jaw. Seek follow-up care with a dentist.
Clean the area and place a cold compress on the area to reduce any swelling. If bleeding does not stop or the wound is particularly large, go to the dentist or an emergency room.
Apply firm pressure to the bleeding area with a damp cloth. If bleeding continues more than an hour, go to an urgent care or an emergency department. If you have any blood or heart issues go sooner; for example if you are on blood thinners or chemotherapy, or if you are being treated for a heart stent, stroke, blood clots, or cancer. If you cannot identify the area of bleeding, seek care without waiting.