Attention Patients: We are currently developing a brand new experience for our location and provider directories. Pardon our appearance in the interim. We look forward to launching our revamped directories with you in the coming weeks!
Cheyenne Tagliaferro,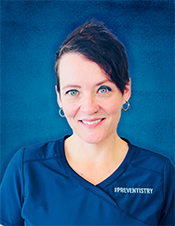 About the Provider:
About
After serving three years active duty in the United States Army, Cheyanne Tagliaferro came home to Massachusetts where she attended Quinsigamond Community College for Dental Hygiene. Cheyenne graduated first in her class in academics with a Phi Theta Kappa award. She has worked as a full-time dental hygienist since graduating in 2004.



Wanting to help people feel good about themselves is what drives Tagliaferro to provide quality care for her patients. But, when she is not helping patients with their oral health or working on her continuing education credits, she enjoys spending time with her two children, friends, working out, reading, writing, going to the beach, cooking/baking and watching movies.
This Provider Works at the Following Practices: