Attention Patients: We are currently developing a brand new experience for our location and provider directories. Pardon our appearance in the interim. We look forward to launching our revamped directories with you in the coming weeks!
Khushbu Sopariwala, DMD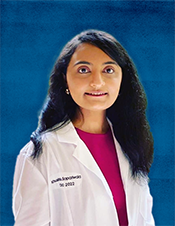 About the Provider:
About
SPECIALTIES AND SUBSPECIALTIES


* Dentist


Education & Training


* Boston University


Bio:


Dr. Sopariwala is a resident of North Grafton, Mass. She completed dental school in India in 2015. After working as a dentist for 2 years in India, Dr. Sopariwala moved to the United States where she then completed the Advanced Standing Program of Doctor of Medicine in Dentistry (DMD) from Boston University with honors. Dr. Sopariwala focuses on establishing relationships and partnering with her patients to help them achieve their goals for dental health. She is a member of the Massachusetts Dental Society (MDS) and American Dental Association (ADA). Her areas of expertise are root canals, crowns, bridges and pediatric care, as well as care of patients with special needs. Additionally, Dr. Sopariwala is certified in both CEREC and Invisalign. In her free time, Dr. Sopariwala enjoys spending time with family and trying different cuisines.
This Provider Works at the Following Practices: