Attention Patients: We are currently developing a brand new experience for our location and provider directories. Pardon our appearance in the interim. We look forward to launching our revamped directories with you in the coming weeks!
MyLinda Murray,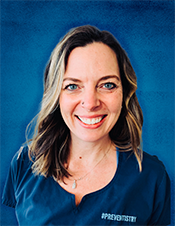 About the Provider:
About
MyLinda Murray graduated from the Dental Hygiene program at Quinsigamond Community College with an award for Clinical Excellence in 2007. There she received her Associates Degree in Science with high honors and in addition to her local anesthesia permit certification. Murray is a proud member of the American Dental Hygiene Association and MA Dental Hygiene Association Worcester component.



Over the last 15 years, she has enjoyed developing relationships with her patients and collaborating with them to develop individualized oral health care plans.



Murray is passionate about health and wellness. Outside of the dental practice, she recently earned a Master Level Nutritional Consultant certification from the American Fitness Professionals Association. She has been a certified group fitness instructor with the Athletics and Fitness Association of America for over 20 years. Murray loves spending time outdoors kayaking, hiking, and gardening with her husband and their adorable dog.
This Provider Works at the Following Practices: