Attention Patients: We are currently developing a brand new experience for our location and provider directories. Pardon our appearance in the interim. We look forward to launching our revamped directories with you in the coming weeks!
Zaid Qaryaqos, DMD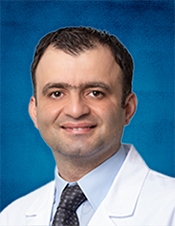 About the Provider:
About
In 2005, Zaid Qaryaqos, DMD, began practicing dentistry in the Middle East. He moved to the United States in 2013, where he received his Doctorate of Dental Medicine from the University of Illinois at Chicago. Additionally, Dr. Qaryaqos holds a specialty certification in Restorative and Implant Dentistry.


"I believe by working together to achieve the smile you admire, you will build the happiness that you desire," Dr. Qaryaqos says. He has a passion for caring for and educating the community. Dr. Qaryaqos' volunteering efforts include serving underserved refugee populations and international missions in the Middle East. Additionally, Dr. Qaryaqos has been recognized for his work as the winner of the Frances Best Watkins Award and the Dr. Donald W. Rice Award.


In his spare time, Dr. Qaryaqos enjoys reading personal development and performance habit books, playing soccer, and exploring new places outdoors with his spouse and two children.
This Provider Works at the Following Practices: